Headwinds for US growth continue to strengthen, but next month's second-quarter report of is still on track to post a gain, based on the median estimate from a set of nowcasts compiled by CapitaSpectator.com. The question is whether the data deteriorates further between now and the July 28 Q2 release from the Bureau of Economic Analysis? Recent releases suggest that's strong, or at least rising possibility.
Let's start with the median Q2 nowcast, which is 2.1% (seasonally adjusted annual rate). That's down moderately from our . More importantly, the new median nowcast reflects a solid rebound from Q1's 1.5% loss. Unfortunately, the odds appear to be sliding that a roughly-2% increase will hold over the next month.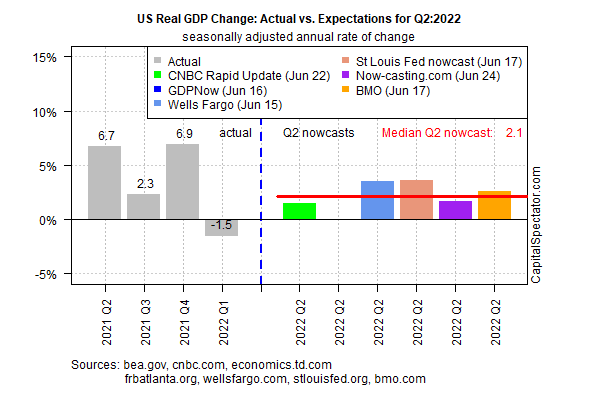 US Real GDP Change
Notably, yesterday's release of S&P Global Flash for June indicates the US economy is slowing "sharply" in June. This survey-based proxy for GDP is still pointing to growth, but it's fallen to a 5-month low and the current 51.2 print is close to the neutral mark that separates growth from contraction.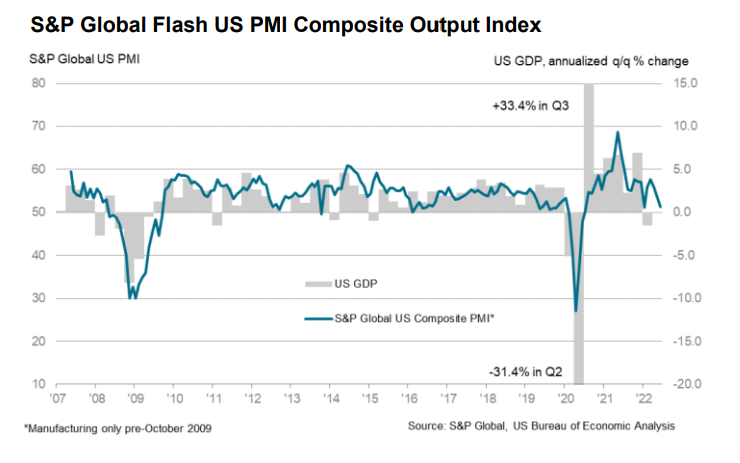 S&P Global Flash US PMI Index
"The pace of US economic growth has slowed sharply in June, with deteriorating forward-looking indicators setting the scene for an economic contraction in the third quarter," says Chris Williamson, chief business economist at S&P Global Market Intelligence. "The survey data are consistent with the economy expanding at an annualized rate of less than 1% in June, with the goods-producing sector already in decline and the vast service sector slowing sharply."
At this point, the global economy's probability of recession in the near term is 40% for the next 12 months, estimates Mark Zandi, chief economist of Moody's Analytics.
"To avoid recession, the global economy needs a bit of luck and for the economic fallout from the coronavirus pandemic and Russian aggression to wind down quickly, along with some deft policymaking by the Fed and other central banks," Zandi says.
Credit: Source link