Stocks haven't shown the typical type of fear associated with a bottom
Valuations are still high
The S&P 500 may need to fall below 3,200
The is down more than 20% on the year and has yet to show any of the critical signs of a market bottom, suggesting there may be further to fall. Those essential capitulation readings that often accompany bottoms haven't developed, and some of them suggest things may still get worse before they get better.
Adding to this, valuation for the index remains elevated, and earnings estimates have only started to turn lower and may fall further as earnings season nears. Additionally, high yield spreads are widening, and volatility measures show that investors' mood is complacent. When these levels spike, that is when a bottom is likely to be near.
Valuations are Still Too High
The overriding factor sending stocks lower is higher rates, and while there are early signs that year-over-year (yoy) headline rates may have peaked, they aren't coming down sharply either; they have been hovering in the 7% to 9% range for several months. It makes finding a bottom in this market much more challenging because we do not know the pace at which inflation will fall or how high the Fed may need to raise rates.
One thing that does help to define a bottom is when investors can say stocks are too cheap to ignore. Except for the 2009-10 financial crisis recovery, we have seen the S&P 500 bottom around 12 to 13 times one-year forward earnings estimates. Currently, the index is trading around 15.3 times 2023 earnings estimates of $242.43, placing the index in a range of 2,910 to 3,150. That low P/E multiple could be enough to account for any further decline we see in earnings estimates in the coming month and to start to attract value investors.
No Signs of Worry
Additionally, at this point, the corporate BBB spread over the Treasury rate is still rising while also not reaching prior peaks seen at market bottoms. The major market bottoms in 2003, 2009, 2011, 2016, and 2020 saw this spread rise above 2.3%. The only time the spread did not rise above 2.3% was in 2018. Given the rising rate environment, the spread between junk bonds and Treasuries seems unlikely to fail to reach that 2.3% threshold.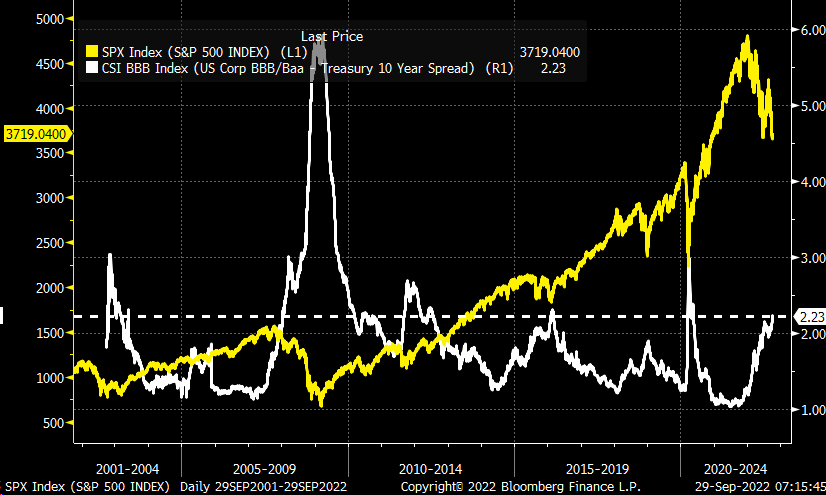 Corporate Bonds/Treasuries Spread Vs. S&P 500
At this point, we have failed to see the make a substantial move higher. Historically, it is when the VIX closes above 36 following a very sharp move lower that we tend to start a bottoming process; at this time, the S&P 500 continues to make lower lows, while the VIX has made a series of lower highs.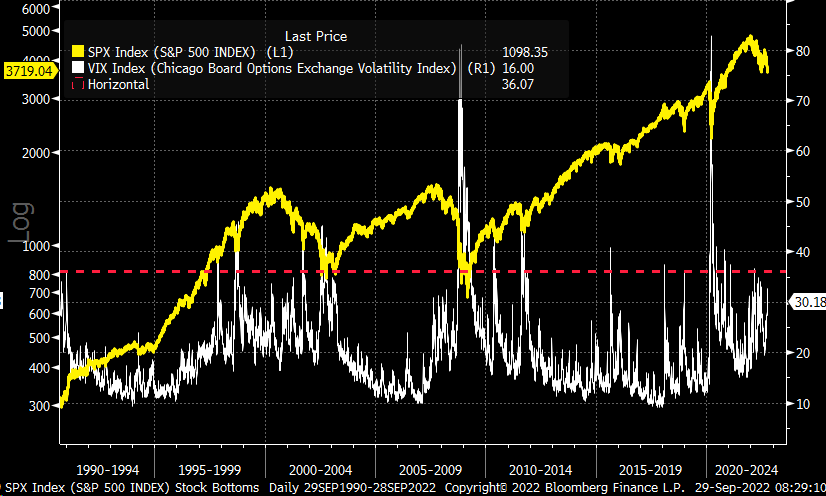 While the market can bottom and bounce anytime, history suggests that this current bear market cycle has yet to play out entirely. It isn't clear at this point whether inflation has peaked or when this Fed rate hiking cycle may end, and until some of these critical points can be answered, it seems unlikely for a bottom to have been reached.
Disclaimer: Charts used with the permission of Bloomberg Finance LP. This report contains independent commentary to be used for informational and educational purposes only. Michael Kramer is a member and investment adviser representative with Mott Capital Management. Mr. Kramer is not affiliated with this company and does not serve on the board of any related company that issued this stock. All opinions and analyses presented by Michael Kramer in this analysis or market report are solely Michael Kramer's views. Readers should not treat any opinion, viewpoint, or prediction expressed by Michael Kramer as a specific solicitation or recommendation to buy or sell a particular security or follow a particular strategy. Michael Kramer's analyses are based upon information and independent research that he considers reliable, but neither Michael Kramer nor Mott Capital Management guarantees its completeness or accuracy, and it should not be relied upon as such. Michael Kramer is not under any obligation to update or correct any information presented in his analyses. Mr. Kramer's statements, guidance, and opinions are subject to change without notice. Past performance is not indicative of future results. Neither Michael Kramer nor Mott Capital Management guarantees any specific outcome or profit. You should be aware of the real risk of loss in following any strategy or investment commentary presented in this analysis. Strategies or investments discussed may fluctuate in price or value. Investments or strategies mentioned in this analysis may not be suitable for you. This material does not consider your particular investment objectives, financial situation, or needs and is not intended as a recommendation appropriate for you. You must make an independent decision regarding investments or strategies in this analysis. Upon request, the advisor will provide a list of all recommendations made during the past twelve months. Before acting on information in this analysis, you should consider whether it is suitable for your circumstances and strongly consider seeking advice from your own financial or investment adviser to determine the suitability of any investment.
Credit: Source link