The is rising again after the latest US economic releases. USD increased to 114.61, which is 0.45% higher than today's open price and the highest this year.
"Cash is king" has never seemed more accurate as the US Dollar refuses to give up gains and continues to climb. Yesterday's US Index and New Home Sales only seemed to boost USD's price movement.
GBP/USD – Technical View
The pair is trading within a descending triangle pattern known to indicate a break in the trend. The price is currently trading at 40% of the earlier decline, but the bearish price movements remain higher.
Today's candlestick is negative, but many traders wait for the price to form a bearish breakout of the 1.0623 level before trading the trend. 
The Index supported the US dollar, which climbed to its highest level in 5 months. The index was predicted to remain at the same level as the previous month due to another 75 basis point increase. However, the price increased significantly to 108.0.
The new rate increase was expected to pressure the property market as mortgage interest rates have reached a new high. However, the US economy remains resilient. The increased from 532,000 to 685,000 instead of declining to 499,000 as expected.
Federal Reserve member, Charles Evans, advised the markets that he believes the Federal Fund Rate will increase to 4.5% before the end of the year and that rate hikes will most likely come to an end in the first three months of 2023.
The official said he remains optimistic that the US economy will be able to avoid a long recession, but this will only happen in the absence of new foreign policy shocks.
NASDAQ – Technical View
remains under pressure for the 15th consecutive day. The price has declined by 13% after the latest inflation figures and interest rate hikes. The index also continues to decline during this morning's futures market.
Today's decline measures 1.85% and has taken the price to lows last seen on Jun. 17. The bearish price movement has also brought the price down to the previous support level, as mentioned yesterday.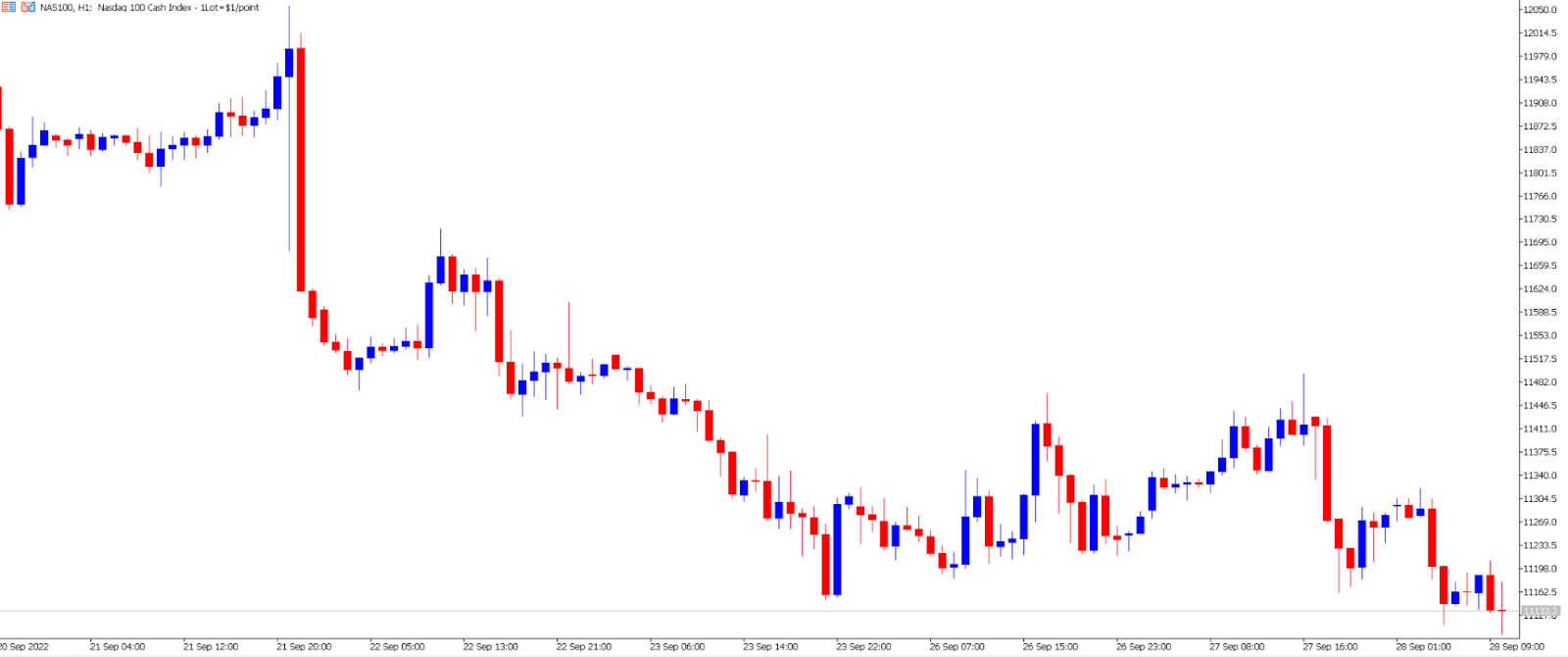 The Wall Street Journal advised that the IPO figure is one of the major pressures on the stock market. According to the report, almost 90% of IPOs in the previous year are now trading below the offered price.
IPO cost statistics look even more alarming for traders. Last year, the total value of US exchange placements was $154.0 billion, but in 2022, that number dropped to $7.2 billion, the lowest figure in the last ten years.
News coming from Apple (NASDAQ:) is also piling on the pressure. According to the latest report from Bloomberg, Apple has decided to ditch previous plans to increase the production of its new iPhone.
According to the company, the decision has been taken due to the current recession risks and lower demand. 
Credit: Source link